In principle, the storage space of your hard disk also expands with the progress of technology. For years now, end customers have been able to rely on the powerful flash memory of an SSD or use many gigabytes of an HDD at a reasonable price. However, at the same time, a lot of data rubbish accumulates, from old backups to duplicate files. That's why you should Windows 10 clean up your hard drive regularly.
If you constantly clean up your PC, you can sometimes save yourself expensive upgrades. In addition, freeing up storage space under Windows 10 proves to be cheap to free. For a basic cleaning of your drives, you can get by with the operating system's on-board tools. Only in particularly stubborn cases do you have to resort to third-party software, which also provides some freeware.
---
Below we show you the first steps that every Windows 10 user can take. This is how to clean up a hard drive – quickly and free of charge.
How do I clean up my hard drive under Windows 10?
Windows 10 comes with the best tools:
Manually clean up the hard drive and remove unnecessary files and programmes
It is inevitable that after a certain period of use, data that is no longer needed will accumulate on your PC. First of all, you should familiarise yourself with how Windows 10 consumes storage space and which temporary files have long since become obsolete. If you are then unsure about what can be deleted without hesitation, it is recommended that you create a Restore point at the beginning. Bear in mind, however, that frequent backups quickly fill up the drives and thus have the opposite effect if you want to tidy up your hard drive.
Then the busy deleting starts. Check everything that has accumulated on your desktop. Take a look at the System folderCheck documents and pictures to see if there is any data junk that needs to be removed. You should pay special attention to the apps and features of Windows 10. In the settings(Windows logo key + I) under Apps you will see a list of all the programmes you have installed. What has not been used for a long time, or has never been used, can be deleted uninstall.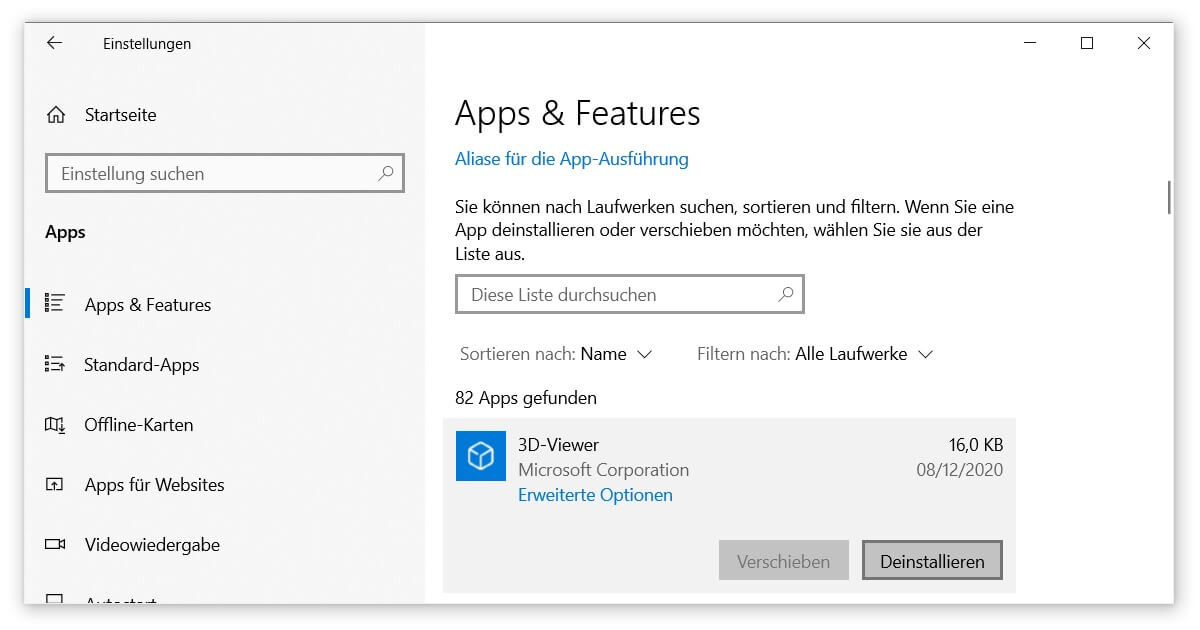 ---
Clean up Windows 10 free of charge thanks to Disk Management
At the latest since Clean up Windows 7 at the latest, Disk Cleanup has proven to be an essential tool if you want to tidy up your hard disk. To do this, simply type the name into the search function (in Windows 10 with the shortcut Windows logo key + S) and the application starts. Various areas are already marked with a tick. Always recommended are the data in the recycle bin and the thumbnails that your operating system saves. Click on OK to start the process. You have already freed up storage space.
Tip: Before (or after) your first disk clean-up, click the Clean up system data button. Here Windows analyses its own structure and adds relevant results to the list of files to be deleted. Are you not worried that you will at some point previous version of your operating system? Then you can tick the appropriate box and make up several gigabytes.
Alternative: How can I clean up my hard disk?
You can now also find Disk Cleanup integrated directly into the Windows 10 menu:
Open the settings via the cogwheel symbol of the start or via Windows logo key + I.
Click on the first entry System.
On the side you will find the item Memory. You will see an overview of which elements of your drives take up the most space.
Free up disk space now opens the integrated disk cleaner, which removes temporary files free of charge.
---
Clean up your hard drive with the professionals from CCleaner
There is one disadvantage to disk clean-up, however: data rubbish that does not originate from the system is often ignored. Even the programmes of the Microsoft Office Suite programmes, not to mention browser histories and all that. The CCleaner, the basic version of which is available free of charge, tracks down these far-reaching files for you Download free of charge. New: PC Health Check, which automatically scans your PC and suggests ways to optimise it.
Like the majority of free freeware solutions, even a veteran in resource conservation like CCleaner has its weaknesses. So first try the Windows 10 on-board tools described above to clean up your hard drive. Our article on the topic Make Windows faster may also prove useful. We hope this brief overview was helpful to you.