At first glance, it is often difficult to say which Microsoft Office functions will really be used by you or your company in the future. Especially the different variants of Office 365 cause a certain amount of confusion before the purchase, similar to the choice between Windows 10 Home or Pro.
Here Office 2019 Standard already convinces with its clarity, which goes hand in hand with the purchase of a one-time licence that does not incur any further subscription payments. The differences in the scope of the programmes also prove to be trivial in many cases.
Nevertheless, there is no universal solution when choosing between Office 365 and Office 2019. The individual case decides. Therefore, with this article, we will help you to identify the advantages and disadvantages of Office 365 and Office 2019 so that you can make an informed decision between the two options.
What is the difference between Office 365 and Office 2019?
Comparison of Office 365 and Office 2019:
By subscribing to Office 365 on a monthly basis, you ensure access to the latest versions of the Office programmes, which include several advanced features. These include at least 1 TB of cloud storage, regular feature updates and a 24/7 connection to Microsoft support. Each user can also install the software on up to 5 devices – PCs, Macs, tablets and smartphones.
Office 2019 is the alternative where you get all the essential content for a much lower price. This includes full versions of Word, Excel, PowerPoint, OneNote, Publisher, Access and Outlook – updates included. The Office 2019 licence is valid for one desktop device. You can claim support from Microsoft for at least 60 days.
Office 365 or Office 2019 – differences in the price-performance ratio
The performance you get with Office 365 comes with one big drawback: the price. The monthly costs add up quickly and make up a not inconsiderable amount at the end of the year, which must be taken into account before purchasing.
If, on the other hand, you take a look at our shopyou will see that Microsoft Office is currently available in the standard version or as a Office 2019 Home & Student for less than 90 CHF. At the same time, the offers can be customised and you also have the option of purchasing licences for individual programmes such as Outlook 2019 or Access 2019 to purchase.
If you compare it to the equivalent for businesses in Office 365, Microsoft 365 Apps for Business, which does not include any of the advanced functions for teamwork and communication, you end up with a price of over CHF 10 per month – if you opt for an annual subscription. If you pay monthly, the price increases by about a fifth.
You can do the billing yourself: Well before the first year is over, Office 2019 is already worth it from a price point of view if you buy via keyportal purchase.
In terms of costs, Office 2019 clearly wins the comparison. You must therefore check for yourself whether you need advanced features such as Microsoft OneDrive to an extent that justifies the extra charge. We will now show you which additional functions are interesting.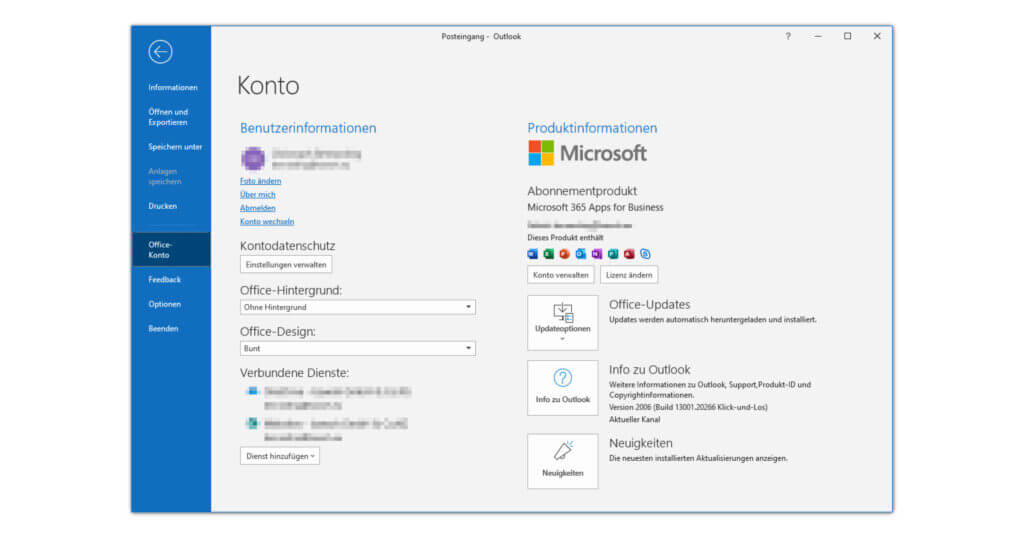 ---
The advantages of Office 365
The cloud storage, more extensive support and extended device support have already been mentioned in the overview. Furthermore, Office 365 includes the web versions of the applications, which you can also use on the move. The software also has some experimental features: Ink Editor for Word, Data Types for Excel or Designer for PowerPoint are among these innovations. If the price is not important to you, the Business Premium options provide your company with further tools for internal communication and collaboration. Microsoft Teams, Exchange and SharePoint are popular.
The advantages of Office 2019
Office 2019 is a one-time licence of the Microsoft application that does not require any ongoing payments and still receives all important updates. This means much less administration – buy once, install and you're done. So if the focus for you is on access to the Office programmes, Office 2019 is perfectly sufficient. Because the savings associated with it cannot be dismissed out of hand.
Even the premium version Office 2019 Professional Plus is already on sale at keyportal for less than CHF 100.